KIM LUTTRELL PARTICIPATES IN ARTS IN EMBASSIES, PRAGUE, CZECH REPUBLIC
9/7/2016
Kim Luttrell has been chosen through the Art In Embassies Program & Ambassador Andrew Schapiro at the US Embassy in Prague, Czech Republic, to participate in the program which purchases & loans work for display from American artists in the US Embassy residences. Works will be displayed in the Villa Petschek, the official Residence of the United States Ambassador to the Czech Republic. Luttrell has 3 works which where chosen for both the exhibition & permanent collections, along with inclusion in the 2016 Exhibition Catalog.
---
HOUSTON FINE ART FAIR, SEPTEMBER 2012 - HOUSTON CHRONICLE
11/29/2012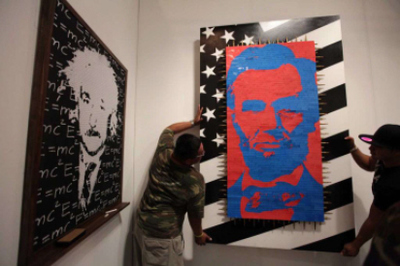 Houston Chronicle coverage of the installation & opening of the Houston Fine Art Fair September 14-16 2012 at the Reliant Center, Houston TX. Luttrell's single artist booth with Susan Eley Fine Art.
---