CURATOR KIM LUTTRELL AT THE SHOW IN STUDIO 34 GALLERY
5/19/2014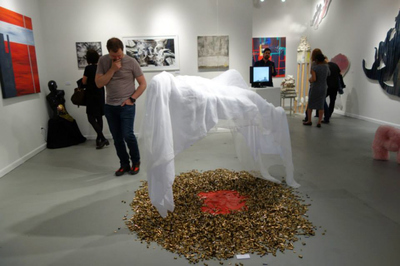 Gallery Studio 34 Group Exhibition

Artist Kim Luttrell, Director of Studio 34 Gallery curated the first group exhibition at the Long Island City Open Studio week 2013.
Luttrell has jumped into the realm of curation boldly, showing no caution, no fear, but simply trusting her consummate aesthetic and wide-ranging taste for beautifully crafted art that pushes technical and thematic boundaries. "That's a real chicken heart," she says matter-of-factly to a viewer peering at Stacy Williams' curious corner installation of a female figure, split down the front, whose torso holds a cup of liquid that houses said chicken heart. As wild and varied as it is, this exhibition works. It is pleasing to the senses and provocative, not for the sake of being provocative and shocking, but because Luttrell appreciates what the artists do and wants to share that with us.